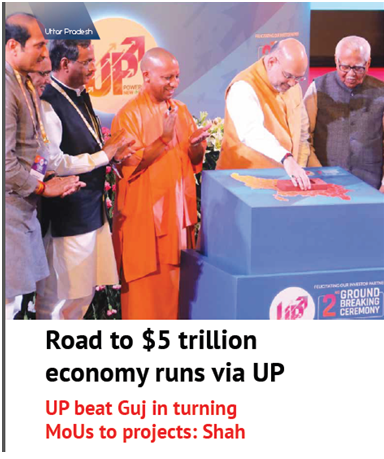 Union Home Minister and BJP Chief Amit Shah hailed UP Chief Minister Yogi Adityanath as an able administrator, who eliminated politicization of bureaucracy that marred development of country's most populous states before BJP came to power in 2017. He also said, the road to turn India's $5 trillion economy passes through UP.
"UP ke andar prashashan ka rajneetikaran itna zyada hua tha ki pardarshita kahin door dur tak nahi thi. Focus hi prashashan tha. Prashashan rajnetaon ko khush karne mein laga rehta tha...Main kisi ka naam nahi lena chahta (There was no transparency due to politicization of bureaucracy. Focus was on administration which was busy keeping politicians in good humour. I won't take anyone's name)," said Shah, while speaking at the second groundbreaking ceremony of 250 projects of Rs 65,000 crore. Shah said the Yogi government has turned bureaucrats into 'janta ke sewak' (helper of people), rather than 'rajnetaon ke sewak' (helpers of politicians).
Shah said, Yogi Adityanath has improved law and order situation, which was the biggest hurdle in investments in the state. It's not until law and order is improved that investments would come. He said, before the 2022 assembly election, UP would become the No.1 state in the country in terms of infrastructure and development. He added "I can guarantee the state government's focus on a host of sectors, particularly small scale industries. I come from Gujarat which has been holding investors' summits successfully. But the speed with which UP government has grounded investment pledges has surprised me," Shah told the host of industry captains. The Centre has set an aim of turning India into a $5 trillion economy, for which UP will have to play a crucial role. Just like the road to Prime Minister's chair passes through UP, the goal of achieving $5 trillion economy also passes through UP. We have already laid the foundation to achieve this target, he said. Recalling the Vajpayee era, Shah said the country was 11th in global economy ratings. The situation did not improve during the UPA government. In last five years, India has moved to 6th position. When BJP came to power in 2014, then PM Narendra Modi began concentrating on a host of sectors. "Modi ji ne kaha tha pehle jo sarkarein aayi thi woh sarkar chalane ke liye aayi thi..hum desh ko badalne ke liye sarkar chalayenge (Earlier, political parties would form a government for the sake of running a government. We formed government to change the country and the people's perception about it," Shah said.
UP biggest exporter with 28% increase in a yr: CM
Sanjay Kumar Singh
To read the further articles please get your copy of Eastern Panorama August issue @http://www.magzter.com/IN/Hill-Publications/Eastern-Panorama/News/ or mail to contact @easternpanorama.in