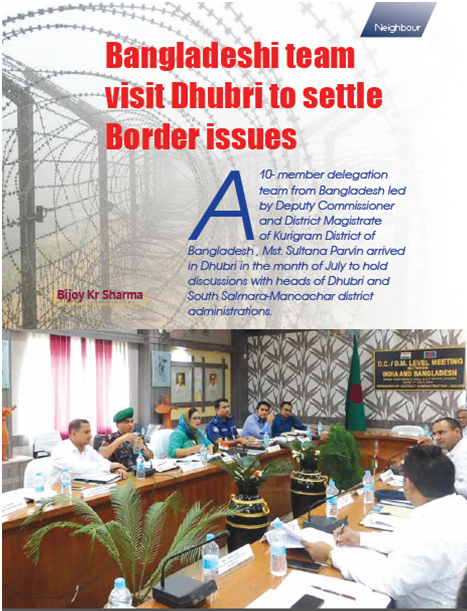 Dhubri side was led by Dhubri Deputy Commissioner, Anant Lal Gyani while Mrs. Atika Sultana led the South Salmara-Mancachar side. Beside them, Superintendent of Police of both district and high BSF officials also attended the meetings.
The team was received by Dhubri district high officials when they arrived at Chengrabandha International border in West Bengal and brought to Dhubri maintaining all protocols. The delegation team after having brief discussion went to visit Asharikandi Terracotta village near Gauripur of Dhubri district, where Director of North East Craft and Rural Development Organisation( Necardo), Binoy Bhattacharjee welcomed them and showed them the making of terracotta in the cluster villages therein.
"The delegation have enjoyed moving around the villages and admired and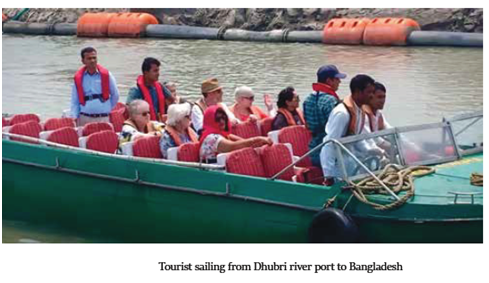 appreciated the unique art in clay", Bhattacharjee said.
Mst. Sultana Parvin and their team members were presented with a terracotta item each. In her brief speech, Parvin said that she was overwhelmed to see the beautiful arts in terracotta.
In a joint meeting held at Dhubri Deputy Commissioner's Conference Hall, wide range bilateral issues including border fencing, trade and commerce and trans-border smuggling figured.
"Issues relating to security were also raised from both sides and sought to be solved at the earliest possible while few issues which are to be taken by central government level from both the countries. But every issue were discussed in a cordial atmosphere and both side showed eagerness to solve the problems and move fast towards peace and prosperity ", an official who attended meeting informed Eastern Panorama.
Apart from discussing various international border-related issues, the dignitaries from the neighbouring country urged their Indian counterparts to check smuggling of narcotic substances, human trafficking, border crimes, cattle smuggling and release of all Bangladeshi nationals languishing in Assam's jails as well as take steps to deport Bangladeshi nationals, who were identified as illegal Bangladeshi migrants.
Kurigram district in Bangladesh shares its border with Patamari, Golokganj, Agomoni and Halakura areas of Dhubri district. Speaking to media persons here, Sultana Pervin said, "We have zero tolerance against border crimes in our country and it can be fully curbed only with the help of our Indian counterparts."
Bijoy Kr Sharma
To read the further articles please get your copy of Eastern Panorama August issue @http://www.magzter.com/IN/Hill-Publications/Eastern-Panorama/News/ or mail to contact @easternpanorama.in