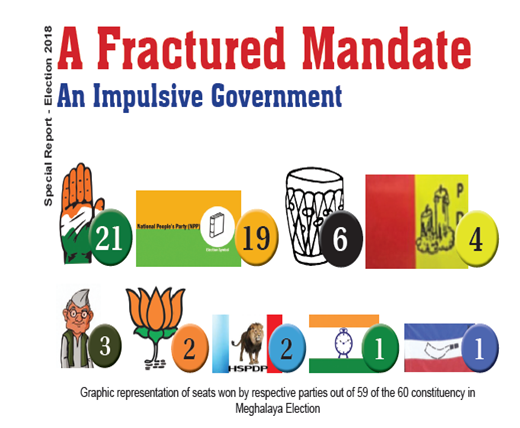 Meghalaya had always witnessed a fractured mandate and formation of coalition governments, except in the initial years of state formation, when the All Party Hills Leaders Conference (APHLC), which spear-head the separate Hill State Legislative Assembly, for almost three term. With the fragmentation APHLC and the emergence of Regional Parties of the era of single majority party in the state came to an end, becoming only a history.
This time, in the 2018 elections, history repeated itself as no single party secured an absolute majority to obtain the magic figure of 30 in the sixty member's house. Though there was no pre-poll alliance, there was a spur of the moment urgency for non-congress parties, to club together without any preconditions except a unanimous on the spot decision, that Conrad Sangma, National President of the National People's Party would head the new Government known as the Regional Democratic Alliance (RDA).
During the campaign, bigwigs of National Parties, including the Congress and the Bharatiya Janata Party (BJP) had made a bee-line to the state in attending rallies. The Congress had played the religious card, which was in a very bad taste which however could not influence the majority of responsible voters. This attitude of Congress in injecting religious communal sentiments had in the end boomerang against Congress, resulting in the BJP and all regional parties to come together in keeping away the congress from the seat of power though the party had managed to get 21 seats. Yet failing to form the Government, the outgoing Chief Minister Mukul Sangma is harping again and again, that the poll mandate was against the BJP. Further Sangma said that the Congress would respond critically to any agenda of the NPP led Government, that may have the backing of the BJP and RSS. The fact being in the Mawkhar constituency, considered to be the brain and think tank of the Ri Hynniewtep-land of the Khasi-Jaintia Hills of East Meghalaya, the BJP came second, just 406 margin to the winner, Albert Nongrum of the Khun Hynniewtrep National Awakening Movement (KHNAM), thus proving that the intelligentsia of the Khasis have totally rejected the religious card played by Mukul Sangma and the Congress Party in the State of Meghalaya.
Sumar Sing Sawian
To read the further article please get your copy of Eastern Panorama March issue @http://www.magzter.com/IN/Hill-Publications/Eastern-Panorama/News/ or mail to contact @easternpanorama.in