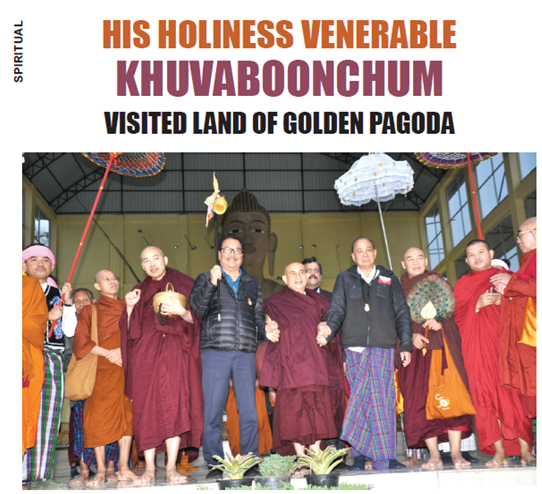 The joy of the people of Namsai district and neighbouring places knew no bounds as the news of the visit of His Holiness KhuvaBoonchum, Venerable Prof KhammaiDhammasami (professor at Oxford University, London) and Venerable Sukhaminda popularly known as Sao Sukham to the Land of Golden Pagodas spread like wildfire.
His Holiness, the Most Venerable KhuvaBoonchum, is a forest meditation monk, well known to a great number of devotees for his solitary and serious meditation practice. He came to Namsai in the company of Venerable Prof KhammaiDhammasami and Myanmarese delegates to visit the picturesque Sai-Leng Dham Dhamma (Light Meditation Centre) and the majestic Kongmu Kham (Golden Pagoda), Noi-Chenam in Namsai, for three days from February 9 to 11, 2018. Sao Sukham had arrived earlier in end of January and had also conducted a meditation camp.
The monks were accorded a warm reception by Venerable Sukhaminda (Sao Sukham), Deputy Chief Minister Chowna Mein, Parliamentary Secretary Environment & Forest Chow Tewa Mein and hundreds of devotees at the airport in Mohanbari, Assam and later were received by great number of devotees at Sai-Leng Dham Dhamma (Light Meditation Centre) at NoiChenam.
On the following day, people dressed in their best traditional attires gathered at NoiChenam to seek blessings and listen to Buddha Sasana Dhamma Desana from the three revered monks.
Emotions ran high in the devotees as they gathered in thousands to receive the blessings from the venerable monks, listen to their dhamma talks and pay obeisance to the most revered monks.
Bilaseng Namchoom
To read the further article please get your copy of Eastern Panorama March issue @http://www.magzter.com/IN/Hill-Publications/Eastern-Panorama/News/ or mail to contact @easternpanorama.in