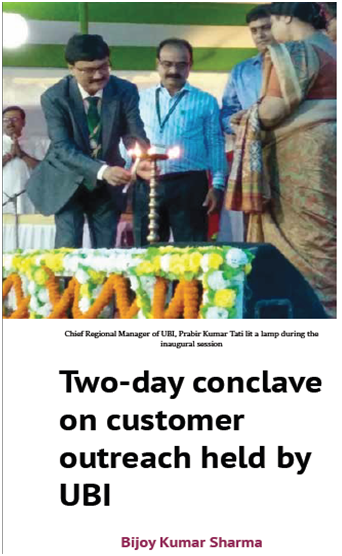 Two-day conclave of customer outreach initiated by United Bank of India (UBI) concludes in Dhubri with overwhelm participation and distribution of over 500 sanction letters to the beneficiaries under various government schemes. Dhubri district is one of the 400 districts across the country selected by the Ministry of Finance to hold the extensive programme to build confidence and reach out to customers and also listen to their grievances and short out them.
Speaking in the inaugural function, UBI General Manager, Rakesh Arora spoke at a length on the various loans including retail, agriculture, and MSMEs covering, housing, vehicle, personal loan, educational loan, Mudra,Stand-up, India,SVAYEM,KCC,SHG,JLG and many more being offered by various banks including UBI. He also cautioned the customers about fraudster active in mobile network and duping the innocent customers ignorant of the fraudulence activities.
While explaining the objectives of the two-day conclave, Deputy General Manager and Chief Regional Manager, Prabir Kumar Tah, in his hour long speech elaborately explained the motive and intention behind the conclave and assured customers to stand by them to simplify and hassle free disbursement of loans. Tah while strongly asserting that there is no dearth of fund in financial institutions to finance any loan also clarified on the present recession in the country, and said that this recession was a fall out of various factors which hardly affected the economy of India though little down. But it is now focusing to achieve 5 Trillion economy.
Earlier, on the day one, Dhubri District Development Commissioner, Banashree Nath formally inaugurated the two-day mega event and appealed the banks' valued customers and loan aspirants to avail the opportunities to boost or start new trade, business and farming.
On the second day, Dhubri Deputy Commissioner, Anant Lal Gyani visited the conclave and inspected all the bank counters and talked to Deputy General Manager and Chief Regional Manager, Prabir Kumar Tah who briefed him about the programme. Talking to Associate Editor of Eastern Panorama, Bijoy Kumar Sharma, Tah said that it was their initiative that drove them to Dhubri district which one of the backward district in Assam.
Bijoy Kr Sharma
To read the further articles please get your copy of Eastern Panorama November issue @http://www.magzter.com/IN/Hill-Publications/Eastern-Panorama/News/ or mail to contact @easternpanorama.in
Add a comment