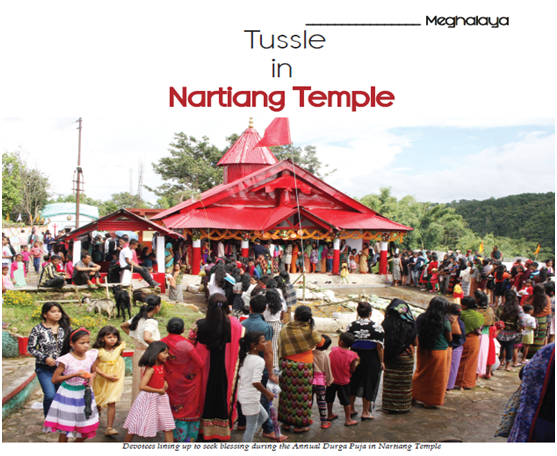 Durga Puja is celebrated in the temple of Devi Jayantee at Nartiang village in Meghalaya since time immemorial. This 500 Years old Durga temple is located at the hill top of Nartiang village which was the summer place of the Jaintia King whose capital was Jaintiapur.
As per legends, Jaintia King Jaso Manik married the daughter of the Hindu Koch king who introduced and influenced Hindu religion in this region many centuries ago. Since the locals of Jaintia kingdom were not aware and familiar with the Puja rituals, a priest family was invited from Maharashtra and till date the same family has been performing all the rituals and is in charge of the activities of this auspicious temple. Pandit Uttam Deshmukh was the last priest belonging to the 29th generation of the Deshmukh family who performed rituals in the temple until his demise on March 2017. On 16th May 2018 Pandit Swappon Bhattacharjee was appointed as the new priest by the Dolloi Elaka Nartiang with the help of a priest at Rama Krishna Mission. The decision drove a wedge between the local devotees, a section of those who were supporting Oni Maskut Deshmukh, a descendant of the priest (Deshmukh) family, who is the son of Molloi Deshmukh, Uttam Deshmukh's elder brother, who was born of a Pnar lady. The tussle between the two parties

began early in August when the headman brought in Pandit Swappon Bhattacharjee as the new priest of the Temple. It was until the intervention of the West Jaintia Hills Deputy Commissioner that the Durga temple at Nartiang had to be temporarily closed.
When the State and country as a whole was bustling in preparation for its annual Durga Puja, the people of Nartiang woke up to sound of clashes between the police and the protestors of the appointed priest. The majority of the Nartiang people wanted to restore the old practice of appointing a priest. Hence, on 16th October around 900 locals submitted a resolution to Deputy Commissioner of West Jaintia Hills, Shri Garod L.S.N Dykes, informing that they (Villagers) have decided that the Puja at the temple should be conducted by Oni Maskut Deshmukh, while the second party led by its Rangbah Shnong opposed to the idea and wanted to appoint Pt. Swappon Bhattacharjee as the new priest. Opposing to the idea of appointing Deshmukh as the new priest, the Rangbah Shnong came barging into the temple which led to a major tussle between two parties of devotees and police personnel on 16th October night. Most villagers wanted the old priest to continue the rituals in the temple, while the other group wanted a new priest to be appointed. The Officials of the District Administration tried to pacify the two groups but failed in their attempts but have to use force to disperse the villagers. Around 40 people from both parties were injured in the clash.
Donboklang Wanniang
To read the further article please get your copy of Eastern Panorama March issue @http://www.magzter.com/IN/Hill-Publications/Eastern-Panorama/News/ or mail to contact @easternpanorama.in