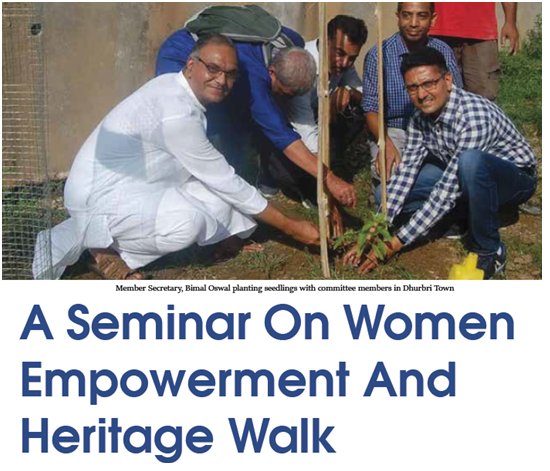 For quite long time, Dr. Pannalal Oswal Memorial Committee (DPOMC) promoting tourism and taking interest in preservation and protection of historical and heritage sites of Dhubri town, and this year too, took initiative to create awareness among the students with a view to enlighten them to the glorious past and iconic history.
DPOMC organised Heritage Walk in the town on the occasion of 20th Death Anniversary of renowned physician and social worker, Dr. Pannalal Oswal observed with two-day long programmes on September 22 and 23.
On September 22, nearly 150 participants including 120 students and teachers across the various schools of the district took part in the heritage walk led by the convener of Dhubri District Heritage Conservation Society, Bijoy Kumar Sharma.
Speaking in the brief inaugural meeting, Dhubri district Museum Officer, Mrinmoy Das highlighted the importance of historical and heritage sites of colonial past and said," This is our invaluable possessions which we all should try to know and preserve them to the local history alive".
The Heritage walk was flagged off jointly by President of DPOMC, Pro (Rtd), Girindra Nath Goswami and prominent practicing advocate at Calcutta High Court ,Chandmal Ghorawat at Dhubri Lions Club Service Centre. Participants were taken to nearly 21 century old historical and heritage sites located within 1.5 sq Km beginning from Queen Victoria statue at Vivekananda More (Tetultola).
Some among the sites were statue of Queen Victoria at Victoria Park, Dhubri Government Boys' Higher Secondary School, Brahma Mandir, Armenian Church, Dhubri Gurudwara Sri Guru Teg Bahadur Sahib Ji, Dhubri Circuit House, Dhubri Post Office, SP Office, Treasury Office, Lawn Tennis Court, Dak Bunglow, Dhubri Bar Association, DFO Bungalow,DC Bunglow, Meterological Tower, Netai Dhobin Park, Panch-Peer Dargah, Raja P.C. Barua Maidam and bungalow of Chinese architecture ( constructed by Lakhipur Zamindar of Goalpara) and Dhubri Municipal .
Talking to the Associate Editor of Eastern Panorama, Bijoy Kumar Sharma, member Secretary of DPOMC and state BJP Vice-President, Bimal Oswal said that apart from these historical sites, there are many other sites in Dhubri town or at the outskirts of the town which includes District Library (Cotton Library), Sidli House ( Foreigners' Tribunal Office), Bust of Vivekananda (installed to mark the centenary of his visit to Dhubri), Asom Sangha Hall, Congress Bhawan, Historic Well, Dr. Bhupen Hazarika Rose Garden, Bisarjan ghat, Shiva temple,40. Huge stone (believed to have been hurled by Netai Dhobin at Sri Guru Teg Bahdur being maintained in glass house by Sikh Pratinidhi Board, Eastern Zone), Kushal Kowar Park, Sri Sri Jogomaya Temple, Pramothesh Chandra Barua Open Air Theatre, Bethel Baptist Church, Hari Sabha, Chatuspati Sanskriti Tol, Shiv Mandir, Boro Masjid, Sishu Pathsala Higher Secondary School, Asom Sahitya Sabha Bhawan, Panch-Peer Dargah (near Dhubri Zail). Wimco, Bholanath College and 56. Ramkrishna Sevashram, Dhubri Railway Station, and Dhubri International River Port.
"We are at our level, taking steps to promote the tourism by organizing heritage walk from time to time and I am sure that state and central tourism departments will take interest in view of importance of the historical and heritage sites and come forward to transform Dhubri into one of the tourists' destination soon", Oswal added.
History and heritage sites of Dhubri should be preserved at any cost : State BJP Vice-President, Bimal Oswal.
In order to create interest among the students, a quiz competition on the heritage walk was organised at Lions Club premises and all the participants of the both the programme were given gifts along with bags and books.
On September 23, a seminar on Women Empowerment was conducted under the auspices of Dr. Pannalal Oswal Memorial Committee (DPOMC). At the initiative of a DPOMC's member and academician, Dhruba Mahato, hundreds of girl students from Higher Secondary Schools and Colleges attended the seminar presided over by reputed musician and composer, Nanda Neogi while it was anchored by Assistant Professor of Dhubri Girls' College, Juin Das.
To read the further articles please get your copy of Eastern Panorama October issue @http://www.magzter.com/IN/Hill-Publications/Eastern-Panorama/News/ or mail to contact @easternpanorama.in