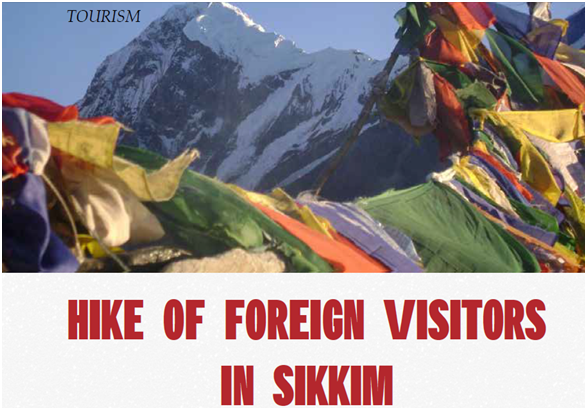 Soon after India lifted the ban on Bangladeshi nationals for Sikkim visit, the number of tourists from the neighbouring country has seen a steady increase. Within a span of one year, a total of 60, 524 Bangladeshi tourists visited the tiny Himalayan state Sikkim.
Prior to 2018, restrictions were imposed on Bangladeshi nationals visiting Sikkim. The ban on Bangladeshi visitors to Sikkim and Ladakh was lifted in 2018.
As per tourism department officials, Sikkim witnessed almost 90 percent increase in visit of foreign nationals in 2019 as compared to 2018. A total of 1, 33,388 foreign nationals visited Sikkim in 2019 of which 60, 542 visitors were from Bangladesh and 56,781 were from Nepal. In 2017, 49,111 foreign tourists visited Sikkim. As per the record of tourism department the number for the same has increased two-fold with a footfall of 71,172 tourists in 2018 while the number of overseas visitors to the state in 2016 was 66, 012. "Sikkim has now become a hot spot for domestic and foreign tourists. The state is known for its natural beauty, peaceful ambience and the crowning glory of being the first organic state in the world. A large section of tourists visited Sikkim to understand and to gain firsthand experience of organic farming in the State" said hotelier Bishan B Rai.
Tour operators and hoteliers feels that once the direct bus service from Dhaka to Gangtok is fully operational than the inflow of Bangladeshi visitors will grow. Last year in the month of December, the trial run bus service from Dhaka to Gangtok was conducted. During trial run two buses from Dhaka along with Bangladeshi officials and other 41 passengers experienced the 1140 kilometres long journey. The trial run comes after bilateral agreement was signed between India and Bangladesh Prime Ministers in October last year.
Over the decade, Sikkim witnessed phenomenal growth in tourism sector, in 2009, figure of foreign tourists was 17,730 and in 2019 it was 1, 33,388 respectively. Similarly arrival of domestic tourists swelled up; records shows that in 2017; it was 13, 75,854 and in 2018 the figure of domestic visitors was14, 26,127.
Number of visitors in Sikkim, both domestic and foreign nationals doubled the state population figure. Tourism department officials informed that data of domestic tourists which was available till September last year was 11, 96,468 and compilation of final figure is going on.
Sandeep K Rai
To read the further articles please get your copy of Eastern Panorama March issue @http://www.magzter.com/IN/Hill-Publications/Eastern-Panorama/News/ or mail to contact @easternpanorama.in