Denounce money power in election- Mahila Congress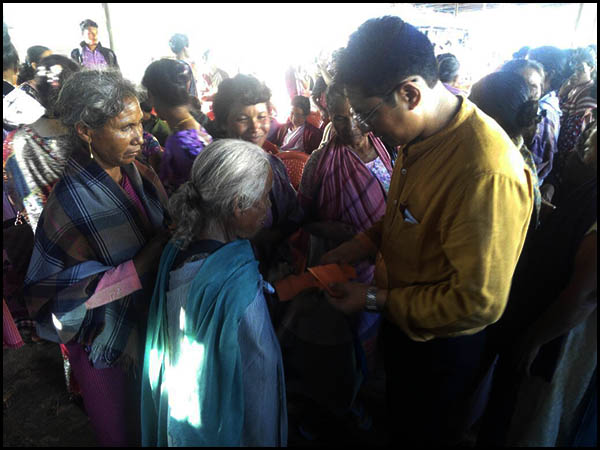 The Mahila Congress of Umroi Constituency elected Rikynti Syiem as the president, and Iohlinda Malngiang as general secretary. A total of six vice presidents which include Esternlin Kharsati, Albina Marpan, Meshilda Lyngdoh, Probina Pasi, Dreamtimai Makri, and Rosalin Kharmawlong were elected.
The objective of forming the Mahila Committee was to donate money to the Congress candidate George B. Lyngdoh to spread a message and to inspire voters in other constituencies to vote with conscience and not by getting bribed or asking money from the candidates. George B Lyngdoh is the eldest son of former Chief Minister late E.K. Mawlong who had represented Umroi constituency in the past. George will contest from Umroi constituency against the present MLA Ngaitlang Dhar who is one of the richest MLAs in Meghalaya.
This is the second incident where people are collecting money for their candidates in order to contest in the upcoming election, the first incident happen earlier this month in Sohiong constituency where people collected money for their candidates. This is a lesson learnt for those who think that many people would vote only for candidates who can throw a lot of money during elections these two incidents prove otherwise. "By collecting donation for our candidate, we want to send a strong message that people of Umroi need to elect their MLA who is qualified and based on wisdom and conscience without getting influenced by money or ask money from the candidate," said one of the donors.
The Mahila Congress women recalled by saying that in the past we had a number of intellectuals and statesmen in the Meghalaya Legislative Assembly but today the State Assembly seemed to have become a house of business people.
The Mahila Members emphasized the need to bring change in the constituency by electing a representative who can make laws and policies for the benefit of the people and overall development in the constituency and the state as a whole. They also decided to spread the message to the nooks and corners of the constituency to denounce money power during election and vote for Lyngdoh as the MLA of Umroi, who can make laws and policies for the interest of the state and the constituency.
Referring to (Dhar) The Mahila President Rikynti Syiem said we need to reverse this trend since innocent voters have been fooled during elections by various candidates especially candidates who are businessmen. Meanwhile Lyngdoh assured the people of Umroi that if elected he would work hard to uplift the constituency which still requires a lot of development and find out ways and means for providing livelihood to the people including the youth and the poor.