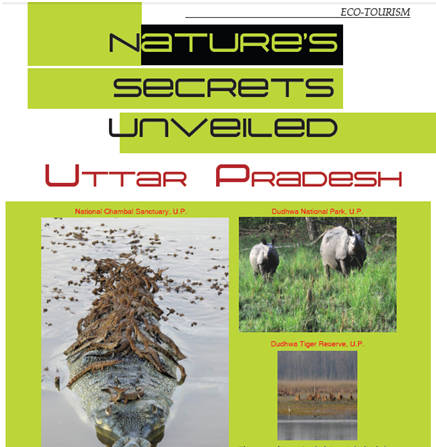 Uttar Pradesh, with its 16,620 sq km forest area, has exquisitely beautiful landscapes, forest-vistas, meandering rivers and breathtakingly beautiful waterfalls. A large number of endangered birds and animals constitute the floral and faunal diversities of this state. The forest dwelling tribes and communities have maintained their traditions and culture while embracing modern technologies and life-styles.
The state of Uttar Pradesh is mainly divided into three bio geographical regions-

The Terai, the Gangetic plains, southern hills and plateaus. To unveil the nature's secrets, the State has been divided into nine ecotourism circuits (as depicted in map) in order to provide opportunities to tourists to experience the different landscapes, forest vistas, meandering rivers, wildlife, flora and fauna. Some of the important circuits are worth mentioning -
Terai Tiger circuit –Dudhwa National Park is an important part of this circuit, situated along Indo–Nepal border, is bestowed with majestic Sal forests, wetlands, marshes and grasslands forming a mosaic and harboring diverse flora and fauna. The visitor can encounter with amazing animals like Royal Bengal Tiger, Elephant, One Horned Rhino, Leopard, five varieties of Deer and nevertheless state animal Barasingha, the swamp deer. The avifauna like endemic wood peckers, hornbills, endangered vultures, Bengal florican and innumerable raptors welcome the tourists. Important other destinations are – Kishanpur and Katarnia Ghat, Wildlife sanctuaries and Pilibhit Tiger Reserve.
Secretary Forest Department
To read the further article please get your copy of Eastern Panorama March issue @http://www.magzter.com/IN/Hill-Publications/Eastern-Panorama/News/ or mail to contact @easternpanorama.in