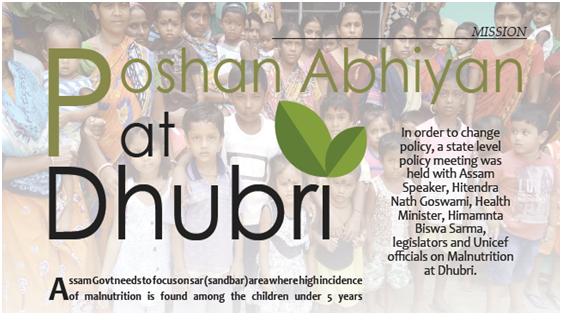 Campaign in Sar (sandbar) area was an uphill task for Poshan Abhiyan where high incidence of malnutrition prevailed which continued from the month of September. In sar areas, drinking water, sanitation and health service are extremely in poor condition where high incidence of malnutrition prevails and 25 percent of total 21 lakh population as per 2011 Census, live there in Dhubri district of Assam.

The entire sar villages are extremely inaccessible and virtually remain cut off from the main stream of Dhubri district due to lack of communication. The only communication is through two legs while country boats connect from one sar to other, but during rainy season it becomes even worst.

Boat clinics and many other attempts were made in past so many years by the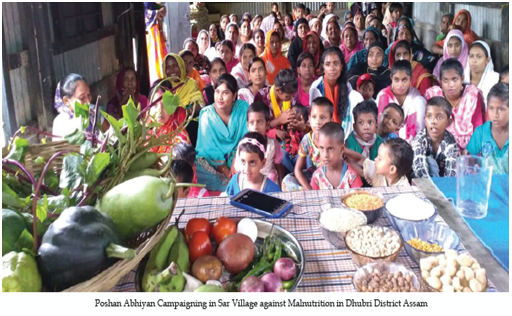 health department to improve the health condition but failed to bring any change. Besides this, drinking water, sanitation and health service are extremely in poor condition, and Anganwadi activities were also rated below average, a source in South Salama Block working in the ICDS informed.

While talking to this scribe, Block Transformation Officer of Piramal Foundation working in Dharmasala Health Block, Arupjyoti Roy informed, that there are many sar villages including Baibari, Patamari, Bhogdhar and Nowerchar.

"Leading life there is tough as villagers have to constantly confront with flood, erosion and storm like natural calamities round the year. But so far, I have observed and found that poor communication, child marriage and high number of home delivery is reported highest from the sar villages. We are working hard to convince the women and girls about the ill effects of child marriage and risk of home delivery", Roy added.

As per National Family and Health Survey (NFHS 4 of 2015-16) data of Dhubri district, 47 percent stunting cases were found among the children U5 years, 39 percent under weight U5, 14.5 percent low birth rate, 42.6 percent anemia between 6–59 months of age and 52.5 percent anemia among women and adolescent girls. But this data, if surveyed only on sar villages properly, the percentage will be 25 percent high on all the parameters, Health Officials of South Salmara Block informed.

But positive thing is that Annganwadi workers, Asha, ANMs, officials of CDPOs, ICDS, Supervisors and also officials of Piramal Foundation, Swasth Bharat Prerak and UNICEF is making all efforts by setting target to improve the condition of 2 to 3 percent from the prevailing poor parameter of child, adolescent girls, women and mother's health.

However, Poshan Abhiyan got boost as 12 Model Village Health Sanitation & Nutrition Day (VHSND) sites were opened by Piramal Foundation in Dhubri District with active support from District Health and Social Welfare Department.

Further in order to get optimum result from Poshan Maah campaigns, Dhubri District Social welfare Officer, Kishori Barua instructed all the CDPOs to organise a project level orientation urgently for Anganwadi Workers.

With the convergence of Dhubri district National Health Mission, ICDS, Piramal Foundation and other line departments, extended all support to open 12 Model VHSND sites at every health blocks of Dhubri district as per NITI AYOG ADT (Aspirational District Transformation) programme recently.

A source informed that in the base line survey conducted by all the Block Transformation Officers (BTOs) of Piramal Foundation, it was revealed that the basic facility at the Anganwadi Centres were poor and there were no patient examination bed with privacy, Hand Wash Corner, Counseling Corner, Breastfeeding Corner at the sites and there prevailed a weak and lack of coordination among the ANMs, ASHAs, Anganwadi workers (AAA).

However, during the month of May this year, Piramal Foundation launched the ADT Program in the district and demand for the Health and Wellness Centres, Model site for VHSND (Village Health Sanitation & Nutrition Day) were fulfilled in August this year.

When this scribe visited Dharmasala, BTO of Dharmasala Health Block, Arupjyoti Roy informed The Sentinel that Piramal Foundation arranged essential facilities like creating space for conducting coordination among AAA , allocation of Examination Bed with Privacy, Availability of Medicines, essential Equipments, Safe Drinking Water Corner, Hand Wash Corner, Breastfeeding and Counseling Corner for the beneficiaries in all the 12 Model VHSND sites with support of District Project Management Unit (DPMU) and Block Project Management Unit (BPMU) and others.


"With an active support from Dhubri Joint Director of Health, Dr. S.M. Emdadullah, on September 12, VHSND session was conducted successfully at four model sites namely at Hajarijharna, Kachuarkhash, Bhatigaon,Baniamari, Khunirvita, BTOs Manjur Ali, Ataur Rahman and Riazul Rahman were present in their respective sites with the BPMU, ICDS, Anganwadi Supervisors, Community Health Officers, local school teacher, members of Panchayati Raj Institutions along with local communities", Roy added.


Bijoy Kumar Sharma
To read the further article please get your copy of Eastern Panorama March issue @http://www.magzter.com/IN/Hill-Publications/Eastern-Panorama/News/ or mail to contact @easternpanorama.in