Acting Natural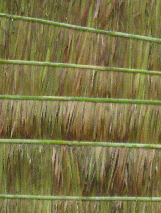 Sukracharjya Rabha gives theatre in Assam a whole new look
When Sankaradeva, the 15th century Vaisnavite saint in Assam experimented with drama as a popular art form along with other forms of art, he made his unique contributions including songs and literature to spread his messages of neo-Vaishnavite movement to vast rural masses. He introduced the unique concept of the Namghar institution in villages to stage dramas and perform other religious activities. The purpose was to gather rural masses in one place to enjoy the flavours of his message.
Centuries later, Sukracharjya Rabha a well known drama personality in Assam and founder director of Badungduppa Kala Kendra, the only theater group of the Rabha tribe of Agia in Goalpara district, has made another challenging attempt of staging dramas inside the dense forests of remote pockets so that rural mass enjoy this powerful art - form in an extremely serene environment which ensures total submission to nature.
Sukracharjya dared to experiment with this at a time when most of his contemporaries are migrating to city bases to showcase their talents. Contrary to his generation, he went to Manipur to apprentice under internationally acclaimed and versatile Heisnam Kanhailal in 2004 and trained himself under the Guru-Sishya tradition at Manipur Kalakshetra for two years.
After he returned, he brought along with him the spirit of making some extraordinary efforts, that is, going to the deep roots of human life, simultaneously experimenting on how to use folk elements that have relevance in the contemporary situation, in drama. As a result, in 2007 when he first staged To-Paidom, which is a fine interpretation of a Rabha folk-tale to the contemporary situation, he received wide-spread appreciation from all sections of the people.
However, when he finally came up with a four - day long drama festival titled, "Under The Sal Tree - 2009 ( Celebrating Rituals through Theater) in collaboration with the Theater Embassy of Netherlands which was staged deep inside the forest in his ancestral village of Rampur December 18-21, 2009, constructing the stage and the gallery with cost- effective and environment-friendly material such bamboo and betel-nut trees; he could really establish his commitment and devotion for the art form as well as for the common masses. The idea was so unique that not a single tree had to be cut while constructing the stage and the gallery.
Thousands of people comprising the audience, mostly rural – semi or non-literate from remote villages, theatre experts and critics were thrilled and energized by the awesome, finely tuned and vibrant performances of those rural artists, delivering dialogues and expressions through their body -movements and neatly curved steps- without any make-up, artificial sound and light system. If the suns rays were enough to dazzle body-movements of the artists, the tranquility of nature and pin drop silence of the rural audience were sufficient for the artists to spread their powerful dialogues to every person; the beauty of the artists who engage in hours long regular physical exercise classes and concentration periods was adequate to accentuate their bodies without any artificial make-up.
To attain this intensity, Sukracharjya has not only taught these artists the rudiments of acting, but he also took the responsibility of creating a class of a sensitive audience in this remote pocket.
"Besides giving artists the necessary guidance, I have also had regular conversations with the rural people, imparting to them the knowledge of how to enjoy a drama during the time of performances," he says.
And, his efforts have proven to be fruitful, as the audience gathered in the thousands, entered the venue, took their seats silently in a disciplined way, enjoyed the play and came out from the forest- calm and quiet.
The festival show-cased six plays including the Madiah Muchi, the home production of Badungduppa, which is a Rabha adaptation of a work of renowned the drama personality of Karnataka Prof H S Sivprakas based on a folk-epic; the Assamese version of Habib Tanvir's Charan Das Chor of Mrinal Kr. Bora's Rangalaya group of Nagaon, Searching of Dipak Maibam's group of Manipur, Disjointed Image of the Heisnam Tomba group of Manipur, Sacrifice of Bidyujit Chakraborty's Kalabhumi group in Tripura, Jagaran of Jayanta Dutta's group in Upper Asssam, and Sristi by Tarali Das's group. Prof H S Sivprakas himself was present during the entire festival.
Following the huge success of the festival, which was digitally documented, Sukracharjya has now been invited to showcase the video show of the festival by International Drama/Theater and Educational Association (IDEA), a combined body of four countries including Spain, France, Brazil USA in its 7th IDEA Congress, 2010 to be held in Brazil from the 17th to the 25th of July.
Stating that drama specialists from different countries in the world are likely to gather and discuss the present crisis faced by them, Sukracharjya says that artists from the third world countries are likely to take time to place their feelings before the IDEA Congress.
Sukracharjya feels that meeting Heisnam Kanhailal was the turning point of his journey. During the initial period of his profession, he was confused as to how he could use local elements in drama and interpret it to the present day situation. It was Kanhailal, whom he met during a month - long theater workshop in Assam jointly organised by Eastern Zonal Cultural Center, Cultural Affairs and Srimanta Sankardeva Kalakhetra in 2004. Witnessing his dedication, Kanhailal instantly invited him to go to Manipur.
Some of the remarkable performances of the Badungduppa group, established in 1998 include the Rabha version of Jyotiprasad Agarwala's Rupalim, the Nepali version of his other drama Labhita, the Bodo version of renowned Mahendra Barthakur's Hati Aru Phandi, among others.
"Since then, the blessings of Kanhailal have been vested on me. Even this venue of these performances was selected by him during his first visit to this place. In fact, he guided me completely on how to develop an open-air stage inside the forest, without cutting a single tree. The serene beauty of nature under the trees provide both the performing actors and audience with the feeling of an attachment to nature," he states.
In 2007, he met puppetry experts from Netherlands, Evelien Pullens in Manipur in a workshop. After having a discussion with Sukracharjya, Evelien Pullens was interested to see his group and came to Assam. During the same year Badungduppa organised a workshop at the Northeastern level. After the workshop, it staged a series of puppetry shows, specializing on the body movement of the puppets. The theme of the puppetry show was the present unrest situation in Northeastern states. It organised a total of 24 shows throughout the northeastern region.
In 2008, the Director of Theatre Embassy, Netherlands Berith Danse, visited Badungduppa Kala Kendra. Viewing the amazing effort of Sukracharjya in bringing dram to the vast rural masses, the Director promised him his co-operation in terms of financial assistance and artistic guidance. The Director also made him the co-coordinator in India, which has a tie-up with 35 countries. "Since then, there has been no looking back," Sukracharjya says.
To bring every artist's excellence at par, Sukracharjya, apart from constructing the stage inside the jungle, also accommodated the Badungduppa Kala Kendra institution with hostel facilities, separately for boys and girls. The hostel accommodates 21 artists. Artists staying there take part in different activities apart from the regular rehearsal. The premises also has an office, a permanent stage for rehearsals, and sheds for guests. For this, he got a plot of land of five Bighas as donation from his father Nilkanta Rabha in 2005. The structures of Badungduppa Kala Kendra are made of environment-friendly thatches and bamboo. Apart from regular rehearsals, a walk in the early morning inside the village, and hours-long physical exercises, are a routine course of the artists.
"The walks in the morning provide them with an opportunity to get attached to nature and village life. The physical exercises are important for a healthy body. I never go for heavy clothing and artificial make up of my artists while they perform. I let them to feel the role from their heart and express it through their bodily expressions. The characters are strong as I often pick them up from myths, rituals or folk tales to relate to a present day crisis situation. I can not demand a good performance from them, until and unless they themselves understand the roots of our culture," he says.
He feels that this is not a tough job. Neither does it require a high degree of qualification. Rather, it requires a high degree of sensitivity. Some of his artists having no formal education can perform the best roles of his plays, claims Sukracharjya.
Mr. Kanhailal, who was present during the festival, while appreciating the approach of Sukracharjya, said that the objective behind the concept was to give rural people the opportunity of enjoying plays of good quality and taste. The modern theaters, within confinements of auditoriums and stages having artificial light, sound and make up often deprive these rural people of quality drama, as they can not afford the cost.
Meanwhile Sukracharjya claims that his dramas are equally compatible to be performed in any sophisticated auditorium. For instance, To-paidom has been staged 14 times in different auditoriums after his first show in the open air stage in his native place.
What is his goal? "To establish a distinct Assamese drama tradition at the national and international level," says a confident Sukracharjya. However, he admits that there is a lot more to do at the research, performance and other stages.
Ratna Bharali Talukdar